Start Racing
Time trials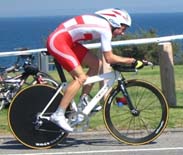 In time trials, riders start at 1 minute intervals and ride over a specific course by themselves, without taking pace from other competitors. Time trials are usually held over standard distances;
10, 25, 50 and 100 miles and 12 and 24 hours. Courses are 'out and back' meaning the finish is fairly near the start, to minimise the effect of wind direction. The time trial courses near to South Manchester are centred around Chelford, Knutsford and Holmes Chapel. Time trialling is controlled by Cycling Time Trials. The Club organises Club events, which are low key events open only to Club members and Open events, which are more official races open to anyone. (Racing Calendar). If you want an informal taste of time trialling, take a look at the list of our Club events. Open time trials organised by the Club often attract 120 entries from top riders and rely on members volunteering to help as marshals and officials. For more information about trying out time trialling, click here.
Road races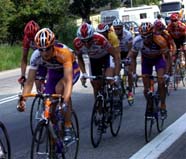 These are bunch races, similar to the famous continental races like the Tour de France. All the riders usually start together and the first rider past the finish line is the winner. Road races can be held over any distance although 30 to 70 miles is the most popular. Road racing in the UK is controlled by British Cycling and you need to be a member of British Cycling and have a road racing licence to compete. Riders are categorised (more info) on ability: Elite, 1st, 2nd, 3rd and 4th categories, plus separate categories for women, juniors, youths and masters. Progress through the categories is achieved by being placed in races and getting points.
The League International (TLI) also organise age and ability road racing on a less formal basis, many of their races are handicap-based and there are several roads races on Cheshire circuits in the summer.
Cyclo-cross and Mountain biking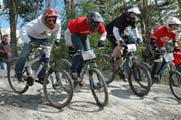 Cyclo-cross races are held off-road over muddy and difficult terrain, where speed and bike handling are important. Cyclo-cross races are multi-lap events usually lasting for an hour for senior riders, with shorter distances for other categories. At the end of the set time, a bell is rung signifying the last lap. Racing seldom sees large bunches forming due to the nature of the terrain, with groups of two or three riders forming at the most.
Mountain bike racing has evolved from cyclo-cross and has become very popular as more people ride off-road for fun. Mountain bike racing takes place off-road in parkland, woodland and forestry sites, with the terrain chosen to incorporate climbs, descents and technical features. Both cyclo-cross and mountain bike racing are regulated by British Cycling.
Track racing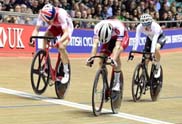 Track racing takes place on purpose built tracks either indoors in a velodrome or outdoors. Tracks are about 250 metres around with banked curves for speed. We are lucky in Manchester to have an international velodrome which is used for World Cups and World Championships. Taster sessions at Manchester velodrome are available so that novices can try out riding on the velodrome. The Club occasionally hires the velodrome for a group taster and training session. There is a velodrome track racing league on Tuesday and Friday nights throughout the season.
BMX racing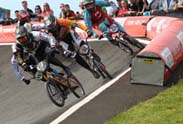 BMX is a type of off-road sprint racing, derived from motocross racing. It take place on purpose-built outdoor and indoor tracks made from compacted dirt and tarmac, around 400-metres long and feature a starting gate, large ramp, banked corners and a variety of jumps. Manchester has an Olympic standard track at the National BMX Centre. BMX racing is controlled by British Cycling. Racing and coaching is available at Platt Fields and the BMX Centre throughout the year.